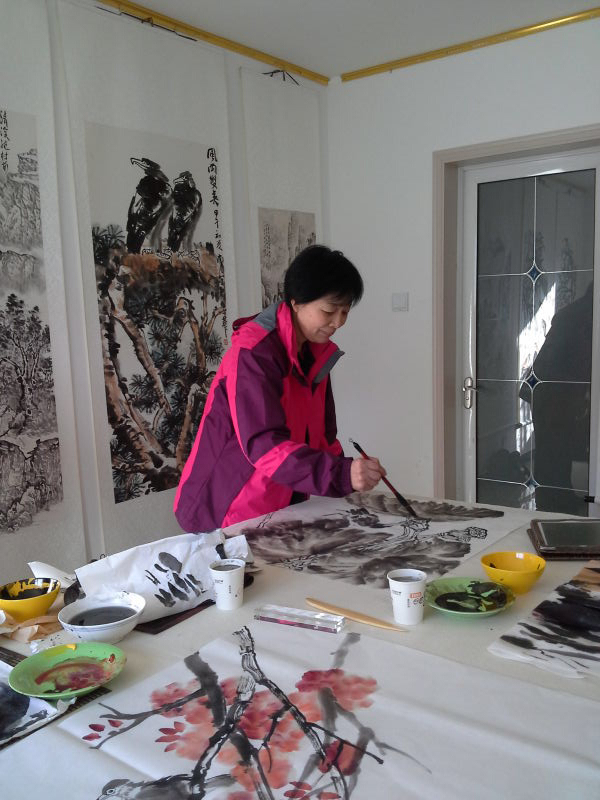 Xiang Chu Yan was born in Hunan in 1949. In the early years, he learned from the famous painter Chen Huisheng, Hunan, who studied fine brushwork flower and bird painting. He graduated from the fine arts college of Hunan Light Industry College (now Lake South Science and Technology University); the seventh rock color painting class painter of the Ministry of culture from Hu Mingzhe Tang Yongli and other famous teachers; the painter of the flower and bird painting studio of the Renmin University of China Painting Academy; the Chinese people of the Ministry of culture Zhang Huaiyong Hu Xiaomin's landscape painting studio; the Chinese people Zhao Jinling studio painter of the College of painting; painter of Li Jinfeng's national exhibition; member of Hunan flower and bird painter Association; member of Hunan Hengyang Association of artists.
In 2003, "Hui Hui" was selected to the second national rock color exhibition.
In 2015, the book "homeland" was selected as the second Chinese star of Chinese pictorial.
In 2015, Turkey was awarded the 30th Anniversary Prize of the Chinese calligraphy and painting exhibition.
In 2015, his works were selected as the light of China.
In 2015, he won the second Chinese ink and ink award.
In 2016, it won the outstanding Yichang award.
His works won the second Golden Rooster Award of the Chinese Calligraphy and Painting Newspaper in 2017.
"Qunying Hui" in 2017 was nominated for exhibition by Chinese calligraphy and painting newspaper to commemorate the 90th anniversary of the founding of the PLA.
In 2017, the work "Wild Water, River and Lake Far away" was selected for the "Shangyi" exhibition held by the Chinese Art Association.
In 2017, the work "Holland" was included in the National Exhibition of Jingshang Danqing.
In 2018, the works of "Shu Fang know painting and painting are strong" were selected as the National Exhibition of "Shu Fang knows painting and meaning strong"; the works "rain forest Qing Yin" entered the National Exhibition of "ink fragrance Zhaoan"; the works "ancient rhyme Jinhui" entered the National Exhibition of "the eight farmland through the God"; the works "past events" entered the National Exhibition of the "homologous" to be reviewed.
Works from 2017 to 2018 have been selected for 2 national exhibitions and 4 national exhibitions.
In 2018, he won the third national ink painting award.
In 2015, 2016 and 2018, the works were selected for the seventh and eighth and tenth flower and bird painting exhibitions in China.
He has been engaged in craft design and meticulous painting for many years. In recent years, he has studied landscapes, freehand brushwork, flowers and birds and landscape paintings, and some works have been collected at home and abroad. Many works have been published in many famous books such as pictorial and art magazines.